Joining many of the other Adobe products in gaining new functionality and features, Adobe Photoshop will now offer an improved Object Selection Tool, enhanced AI selection masking, Neural Filters, improved gradients, better sharing and more plug-in compatibility, RAW support for Mobile and finally, Photoshop on the web.
If you're interested in the updates to Lightroom, you can check them out here.
Let's take a look at some of the most interesting features you can expect in the newest version of Photoshop.
Object selection Tool
According to Adobe, the Object Selection Tool has been significantly improved. Now, it's possible to just hover over the object you want to select in the image and a single click will select it. Adobe says the tool can detect most objects within an image, but the company's AI machine learning continues to improve in detecting additional categories of objects.
Selections made with the Object Selection Tool will also now be more accurate and preserve more details at the edges of the selection as well. If any objects are not detected or only partially detected, users can simply click and drag a marquee over any areas to be selected. (This is how the tool worked previously, but now you can also just hover to click what you want).
It's also now possible to mask more objects at once, by choosing Layer>Mask All Objects to generate masks for all the objects detected within a layer with just one click.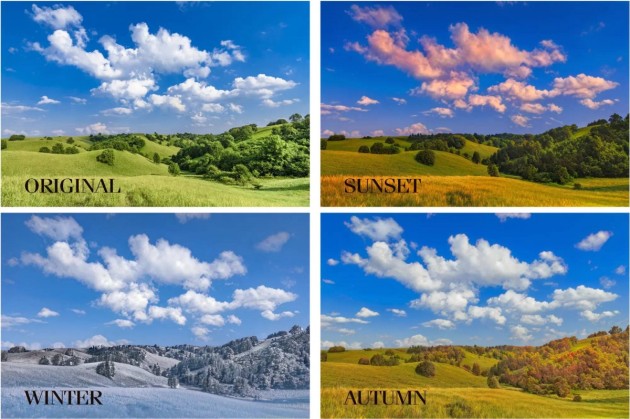 New Neural Filters
Neural Filters is a workspace inside Photoshop that introduces new non-destructive filters that use Sensei AI machine learning. Essentially these can be used to automate previously complex tasks, reducing complex workflows to one click or a couple of sliders.
Three new beta Neural Filters have been launched – Landscape Mixer (beta) allows users to create entirely new scenes, concept art or whimsical scenes by combining any two landscape images together, Color Transfer, which takes the color palette of an image and makes it easy to apply it to a different image and Harmonization (beta), which matches the color and tone of an element on one layer to another layer.
In addition, Depth Blur is getting a new machine learning model that applies a more natural blurred background and keeps the subject more in focus.
improved gradients
Fundamental in many workflows and with new interpolation options, Adobe says gradients will now look clearer and brighter.
The company says gradients will now have a more natural blend and appear more like the gradients you see in the physical world (like a sunset or sunrise sky). Three types will be offered, Classic mode, which preserves the same way Photoshop has displayed gradients in the years past, Perceptual mode, which displays gradients the most closely to how humans perceive light to blend together in the physical world. This new mode is the new default in Photoshop on desktop and iPad. And finally, Linear mode, which displays gradients closer to how natural light appears.
Aimed to speed up the process of working with clients and colleagues, new sharing functionality will let users share their work for review with clients and colleagues and receive their feedback in Photoshop in a new commenting panel on both the desktop and iPad versions. Collaborators can leave comments, including adding pins and annotations.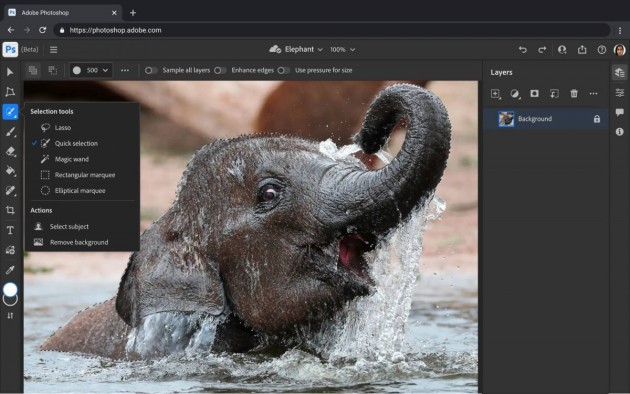 Photoshop Mobile
Photoshop on the iPad will now support RAW files from the entire Adobe Camera RAW list, as well as Apple ProRAW files from the iPhone 12 and 13. Other features such as Sky Replacement, Healing Brush, and Magic Wand are now on iPad's version of Photoshop as well.
photoshop on the web
The company has also confirmed it is extending Photoshop to the web as a beta (running in Chrome and Edge browsers). The commenting functionality discussed above is an early feature it will support, allowing collaborators to open and view Photoshop cloud documents in the browser, provide feedback, and make basic edits without having to download or launch the app.
"We are extending two of the world's iconic creative products, Photoshop and Illustrator, to the Web, so that you can access projects anywhere," Adobe says.
"With just a URL, you can invite anyone to view and comment on your Photoshop or Illustrator file — and the reviewers don't need to download any software or have a Creative Cloud subscription."
As always with Photoshop updates, there's a lot of information to unpack, so if you'd like to explore the release in more detail, you can do so via the Adobe blog, here.